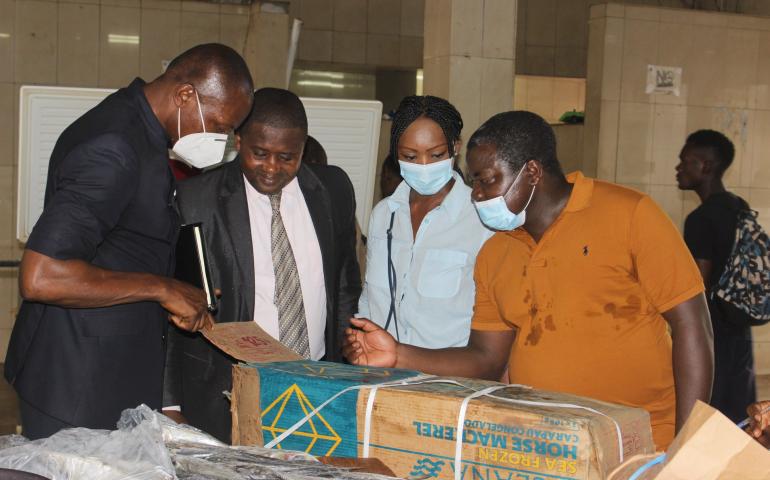 This is the object of the descent carried out on November 26, 2020 by Barbara ELEMVA-AMANA, Head of the National Fraud Control and Repression Brigade  accompanied by the Regional Delegates of the Center and Departmental of Mfoundi in certain markets of the city of Yaoundé as well as the Heads of Sections of Price and Quality Inspections.
It was not only a question for these officials to ensure, on the one hand, the availability of stocks of consumer products such as fish, chicken, eggs, the trend of which was upward some time ago, fruits, vegetable oils and on the other hand the respect of the approved or concerted prices of these products.
It appears from this descent that the price level is satisfactory whether at the Mokolo, Accacias or Mvog-mbi market. The price of Mackerel 25+ varies between 1,200 and 1,350 CFA francs depending on whether it is Mauritanian or South African, whatever the market in which it is located. The egg compartment is between 1,700 and 1,850 francs, while the chicken sells for 2,500 francs per layer and 2,800 francs for a 45-day-old broiler.
For oils, prices vary between 900 francs per liter of "bulk" and 1100 francs per liter of refined vegetable oil, while crude palm oil fluctuates between 500-600 francs per liter. Rice is marketed according to its category and the prices charged are those resulting from the consultations, namely 19500 francs per bag of 50 kilograms of 5% broken rice and 17,500 for a bag of 50 kilograms of 25% broken rice.
At the end of this visit, Barbara ELEMVA-AMANA and her collaborators say they are satisfied with the stocks available, the prices charged as well as the level of responsibility of the traders which results in the display of the prices on the products despite the current context marked by the Coronavirus pandemic. Only a few crooked traders are slow to comply with current trade regulations. This is how a shop was put under seal at the Mvog-Mbi market for not respecting the prices of these products.
The Minister of Commerce reminds consumers that the toll-free number 1502 remains open for all complaints of illicit commercial practices of which they may be victims or witnesses.