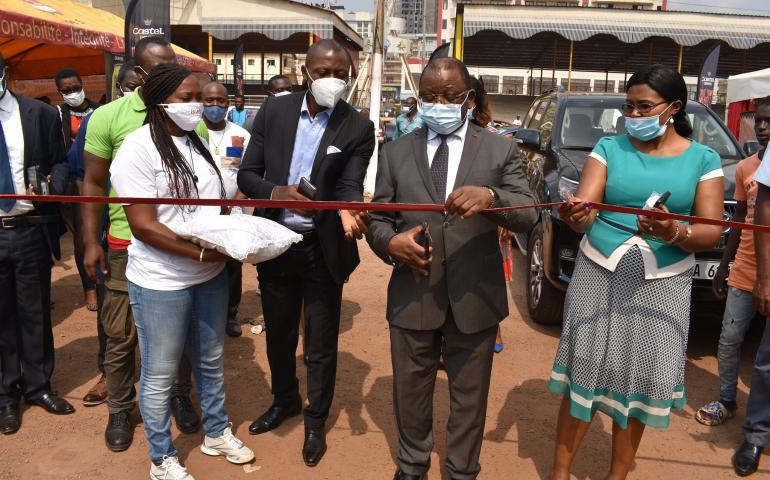 It is in this market opened on boulevard du 20 mai in Yaoundé that Luc Magloire MBARGA Atangana, Minister of Commerce, closed the visit undertaken this 23 December 2020 in the city's supermarkets. This is a prelude to the end and beginning of the Year celebrations.
It was not only a question for the trade boss to ensure that large areas are sufficiently supplied with consumer goods, but also to assess the place given to local products in these spaces.
At the end of this visit, it emerges that the products are widely available on the shelves of the various surfaces and the prices are much more affordable than in previous years. The promoters of the supermarkets have launched for the occasion, large promotions of various products with discounts of the order of 50%. Also local products gain even more space in the different shelves with an average occupancy of 50 to 60% with a particular emphasis on quality and packaging.
With regard to the" Christmas market", the solemn opening of which took place today by the Minister of trade, a multitude of products are offered to consumers at exceptional prices. These are consumer products such as rice, pasta, sugar, food products, fish products, drinks and liqueurs "made in Cameroon" etc.beef is sold at 2100 Francs per kilogram with bone and 2600 F per kilogram without bone. The chicken of 2 kilograms is torn to 2500 F thanks to the agreement concluded with the Interprofession Avicole du Cameroun on the opening of special spaces for the sale of chicken in the city of Yaoundé during this period.
Luc Magloire MBARGA Atangana calls on consumers to stock up massively at the "Christmas market" in strict compliance with the barrier measures enacted by the government to limit the spread of Covid-19. It also recalls that the public utility number le 1502 remains open for any denunciation of illicit commercial practices of which they may be victims or witnesses.