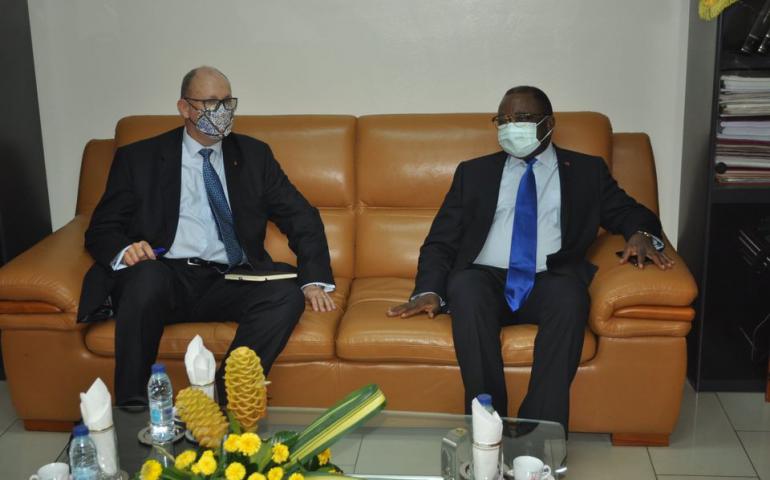 Michel ARRION, The Executive Director of the International Cocoa Organization (ICCO) was received in audience this September 9, 2020 at the pink building in the presence of the presidents of the Interprofessional Cocoa and Coffee Council (CICC) and the National Office of cocoa and coffee (ONCC). It was a question for Luc Magloire MBARGA Atangana and his host to review the important files on the agenda of the next International Cocoa Council which meets in Abidjan in Côte d'ivoire next fortnight.
It was also an opportunity to find answers to the challenges that cocoa producers face, namely the decline in prices due to the decline in demand due to the COVID19 crisis in the world. To address the problem of falling cocoa prices, it is necessary to improve the quality of Cameroonian cocoa through compliance with fermentation and drying standards and also to have Cameroon recognized as a country of origin internationally in order to guarantee farmers a better price.
According to the Minister of Trade, a program for the establishment of centers of Excellence for post-harvest processing of cocoa is being developed in Cameroon. The products that come out there benefit from a differentiated price and this differentiation is a function of quality. It is therefore a question for Cameroon to release cocoa as a generic product for a Cocoa of excellence. Luc Magloire MBARGA Atangana has also expressed his commitment to work to maintain a decent price level during the cocoa campaign that will be launched in the coming days.