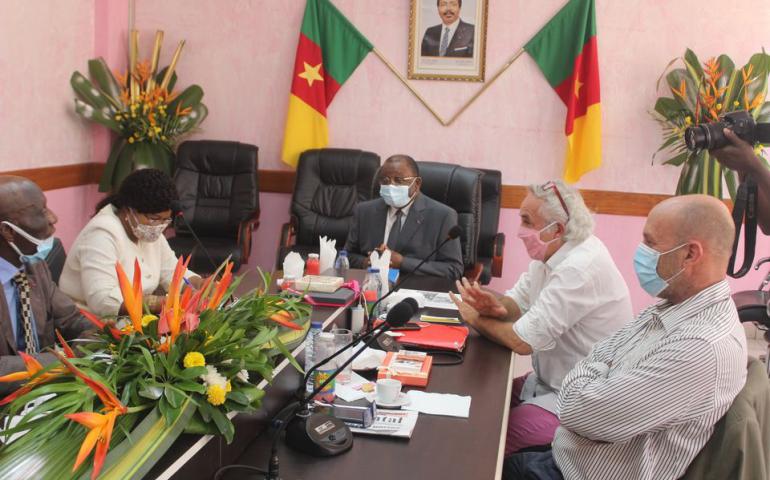 Luc Magloire MBARGA Atangana, Minister of Trade, received this October 19, 2020 the Vice President of the Confédération des Chocolatiers de France also president of the club "Les Chocolatiers Engagés" and the vice president of said club for a working session in the conference room of its ministerial department.
It was a question for Daniel MERCIER and Christophe BERTRAND, to reaffirm the commitment of French chocolatiers to support the cocoa sector of Cameroon in the permanent production of cocoa of excellence. The label "Les chocolatiers engagés" has come to ensure the quality of the production of Cameroonian cocoa of excellence in order to provide clear answers to consumer concerns about the origin of cocoa, its producers, production mechanisms and also the absence of exploitation of children in the sector. The club also guarantees producers a bord champs price of 1640 CFA Francs for the 2020-2021 cocoa campaign.
Since 2016, the Confédération des Chocolatiers de France has been working in collaboration with the Conseil Interprofessionnel du Cacao et du Café (CICC) to promote the quality of cocoa at a satisfactory price to producers. During their stay in Cameroon, several cocoa processing centers of excellence will be visited by chocolatiers. Also on the program, a consultation between the heads of the said centers and those of the CICC accompanied by Daniel MERCIER and Christophe BERTRAND.
Luc Magloire MBARGA Atangana congratulated CICC officials for their dynamism at the origin of this cooperation which foresees "a future in pink" for Cameroonian cocoa.