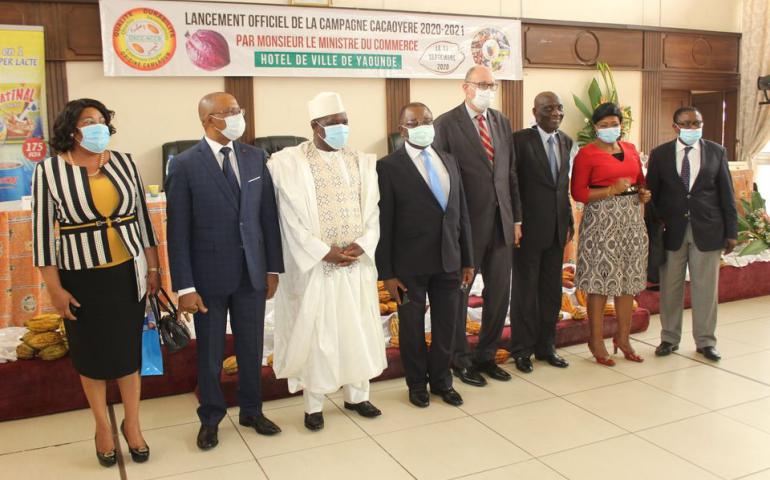 The Minister of Tradee, Luc Magloire MBARGA Atangana chaired the press briefing marking the official launch at Yaoundé City Hall this September 11, 2020. He was accompanied by his colleague Gabriel MBAIROBE from Agriculture and Sustainable Development, Michel ARRION, Executive Director of the International Cocoa Organization (ICCO), the administrative authority of the Central Region as well as the presidents of the Interprofessional cocoa and Coffee Council (CICC) and the National Office of cocoa and coffee (ONCC).
For this official ceremony held in Yaoundé for the first time, it was a question according to the boss of the trade to change the scenery because the operational actors were connected by video conference and also format due to the fact that instead of formal speeches, one opted for a system of exchanges. It is clear from the various exchanges that improving the quality of cocoa beans is the only guarantee of increasing competitiveness on the international market and also of guaranteeing a better price.
This requires the promotion of qualitative excellence, i.e. the adoption of a unanimous cocoa processing policy between harvest and post-harvest. According to the Minister of Agriculture and Sustainable Development, a census operation of producers is underway throughout the national territory.
Also, efforts are made to increase the quantity of production as well as a point of Honor is put on local processing. Luc Magloire MBARGA Atangana reassured producers that in partnership with the industry, all means will be implemented to avoid reliving the crisis observed in 2016. He thus placed this cocoa campaign 2020-2021 under the triptych "vigilance-trust-resilience".